Bay/California
Proposed shark fin ban affects Chinese American culture
A new bill to outlaw shark fin is making its way through California's Legislature, and some Chinese Americans are outraged at the impact it will have on their culture.
Assembly Bill 376 would prohibit anyone besides licensed fisherman in California from buying, procuring, or possessing shark fin.
Ivy Lai, who has a seafood shop in Chinatown, believes if the bill is passed a piece of her culture will be diminished.
"It is very important to the culture," Lai said. "When you get rid of it you are totally destroying a tradition."
The Chinese culture utilizes shark fin to make soup, used as a sign of respect.
State Sen. Ted Lieu, D-Torrance does not agree with the bill's exception for fisherman.
"The government shouldn't say you can kill a shark for the cultural practice of skinning for wallets but you can't use the same shark for shark fin soup," he said.
For more information, visit: http://www.sacbee.com/2011/08/28/3867394/chinese-american-community-divided.html#ixzz1WS5Ep7zz
Arts/Entertainment
Filipino American pays tribute to Amy Winehouse
Recently, MTV held its annual VMAs and included in this year's lineup was a tribute to the late songstress Amy Winehouse through the musical styling of R&B singer Bruno Mars.
Adorned in a 1950s inspired sock-hop look Mars, who is of Filipino and Puerto Rican descent, performed Winehouse cover of Zuton's "Valerie."
The Filipino singer had the audience filled with celebrities singing along in their seats.
His animated performance took place in front of a drum set imprinted with Winehouse name and a big screen at the back of the stage with Winehouse artistic comic-inspired graphics.
Mars stellar performance ended on a touching note when he added additional lyrics in tribute to Winehouse, "Say Amy, oh Amy/ I love you darling, I love you darling/ Say Amy, whoa Amy, we'll miss you baby."
For more information, visit: http://www.mtv.com/news/articles/1669867/bruno-mars-amy-winehouse-tribute-vmas.jhtml
Sports
JACL set to honor former Bay Area athlete
Don Wakamatsu, who once attended Hayward High School, will be honored by the Japanese American Citizens League (JACL) Gala in Washington, D.C. on Sept. 29.
The Gala will honor those Asian Americans and Pacific Islanders who have made exceptional contributions in athletics.
Wakamatsu, who is of Japanese and Irish descent, began his impressive career in high school where he was a three-sport star in basketball, football, and baseball.
He went onto the 1985 MLB Draft, in the 11th round he was drafted by the Cincinnati Reds.
After his professional and coaching career he made history as the first Asian American MLB manager when he managed the Mariners.
Asian Americans such as Floyd Mori, JACL National Executive Director, find Wakamatsu truly an inspiration.
"My dream as a teenage ball player was the Major Leagues. Don Wakamatsu has made that dream a reality."
For more information, visit: http://rafu.com/news/2011/08/jacl-to-honor-former-mariners-manager-wakamatsu/
Global
China's version of twitter threatens to suspend accounts
The bloggers of Sina.com's Weibo microblog, China's equivalent to Twitter, recently sent notifications to their 200 million users that anyone who spread unsupported rumors could have their account suspended for one month.
The notices that were sent out stated that two bloggers who had spread the false rumors would lose the ability to send messages or add new followers for a month.
Another notice reported of a blogger whose account was suspended for accusing the Red Cross Society of China for selling blood for a profit.
Some bloggers accuse the Chinese government as the source behind the penalties.
A member of the Politburo, the Communist Party committee visited and told Sina.com officials that they should "resolutely put an end to fake and misleading information.
For more information, visit: http://www.nytimes.com/2011/08/27/world/asia/27weibo.html
Art/Entertainment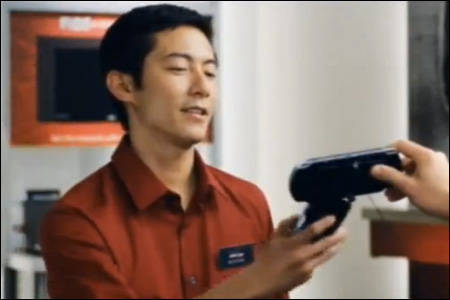 The typical tech-savvy Asian on TV
A new Verizon phone commercial portrays an Asian American salesman persuading a Caucasian boy to purchase their latest phone, stereotyping that all Asians are intelligent and technologically knowledgeable.
Placing the Asian American as the typical tech-guy is a concept known as the "match up" theory.
Usually consumers are more likely to buy a product when the spokesperson of the product matches their sale such as a supermodel is more likely to represent cosmetics or an athlete endorses sporting equipment.
Asian Americans have expressed mixed opinions on these ads. Some do not object to being associated as well-educated and knowledgeable while others say it's a cliché for a highly diverse group that makes up nearly 6 percent of the U.S. population – including Chinese, Japanese, Korean, Filipino, Vietnamese, Indian, and other backgrounds.
For more information, visit: http://www.washingtonpost.com/lifestyle/style/asian-americans-face-new-stereotype-in-ads/2011/08/11/gIQAiMzvZJ_story.html